This week, for the first time in a few months, I had my canning pot on the stove. I had a mountain of carrots from my winter CSA that needed some attention, so I made a batch of vinegar pickles. When it comes to carrots, we've had an embarrassment of riches this winter and I've been trying to work through them every which way I can. A couple of disclosures are necessary here. First, I don't exactly love carrots. Second, there are still plenty of carrots left in my crisper so I welcome your favorite carrot recipes in the comments. (If you've been keeping up with the podcast, this isn't the first you've heard of my carrots.)
My carrot situation got me thinking about how my approach to preserving has changed since I first started. My initial excitement pushed me to try as many new recipes and flavor combinations as possible, whereas now I've settled into a more practical approach. Rather than daring flavors, I'm drawn to simple, tried and true recipes for those times when there's a little extra of something. Preserving has quietly taken its place in my culinary habits, which I realize has meant I'm writing about it here less. (Consider this a very public mental note to try and change that a bit in the upcoming season.) Most of the time, I find myself turning to my reliable recipes by other folks, recipes that I'm happy to make without any real changes.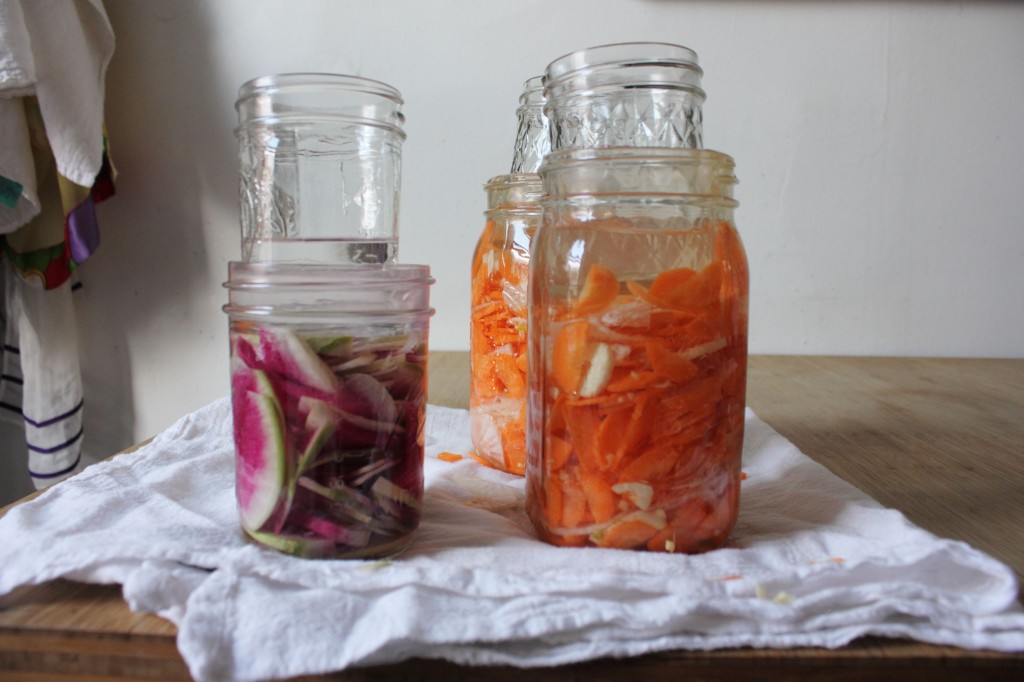 This carrot daikon kimchi from Doris and Jilly Cook is one of those recipes. I find myself coming back to it every year around this time. If you've yet to try fermenting vegetables, this is an ideal starter project. I cruised around the greenmarket yesterday and all the ingredients, except the ginger of course, are available now. I typically double the batch when I make it and leave out the scallions and pepper, but take a look at the original recipe and do what suits you. We use this as a condiment to accompany eggs and hash browns, grain dishes, and—most joyfully—on nachos. My mini-batch of fermented watermelon radishes that you see above was darn pretty, but I'm still perfecting it. I just started an "in-between season preserving" pinterest board to help me collect not-quite-spring inspiration. What kitchen projects are carrying you through to warmer weather?