Lemon balm is miraculous, in a Walt Whitman yawp over the roofs of the world sort of way. It sings itself and only itself, which is just a romantic way of saying that it smells unbelievable and like nothing else at all. It works some Willy Wonka magic on milk and cream and the result is something that miraculously (again!) tastes like an entire lemon cake. I like it much more than I like old Walt.
I am not in the habit of giving advice, but here's an exception: make this summer your summer of ice cream. Buy the best ice cream maker you can afford—and if it's a janky $30 one then, hey, you and I will be twins—and find a recipe that you love.
This is my basic ice cream recipe. It's eggless to keep things affordable, so I can make it every week. Plus, after trying the Jeni's method of making ice cream without eggs, I've come to love how it produces a clean taste and really lets the flavors shine through. End rant. Make some ice cream.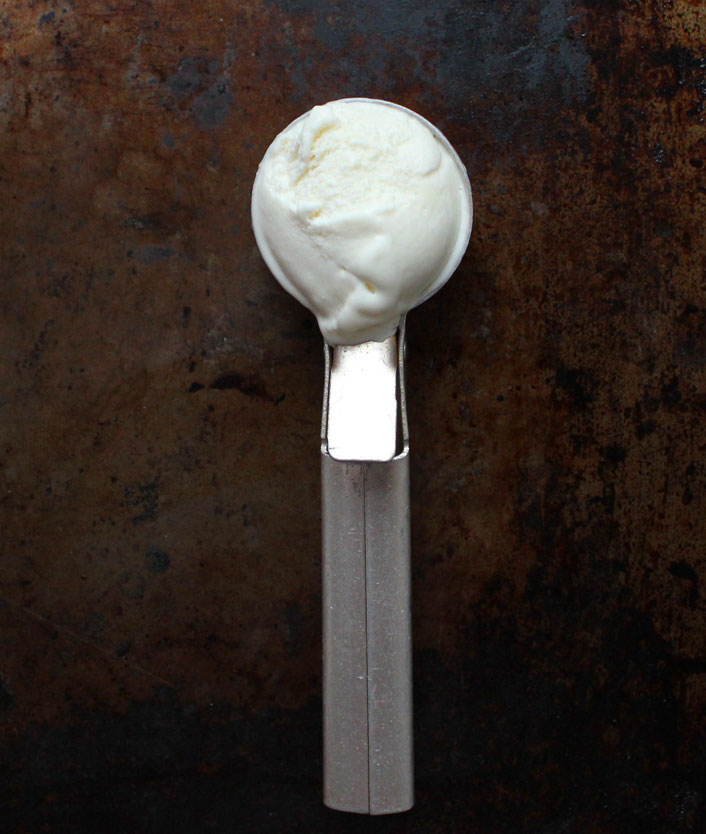 Lemon Balm Ice Cream
Author:
Prep time:
Cook time:
Total time:
Ingredients
Lemon Balm Ice Cream
Ingredients
1 1/2 + 1/4 cups whole milk
1 1/2 cups heavy cream
1 generous handful (about 8 sprigs) lemon balm
3 T tapioca starch
3/4 cup sugar
1/2 t vanilla extract
1 T vodka (optional)
Instructions
Place 1/4 cup of milk and the tapioca starch in a small bowl and whisk to combine. Set aside.
Reserve one sprig of lemon balm to tuck into the ice cream base once it is cooked. Set aside.
Combine the heavy cream, remaining lemon balm, remaining milk, and the sugar in a small saucepan over med heat. Stir frequently until the sugar is dissolved and the mixture just begins to steam.
Remove from heat and let the mixture steep for 30 minutes.
After 30 minutes, remove the lemon balm and place the mixture over medium heat again.
Stir frequently and bring to a steady simmer.
Once the mixture simmers, give the reserved milk/tapioca starch slurry a final stir and whisk it into the ice cream base, stirring constantly. It should thicken quite quickly. The base is done when it coats the back of a spatula.
Remove from heat and stir in vanilla extract and vodka, if using. The vodka improves the texture of homemade ice cream and you can't taste it.
Place the reserved sprig of lemon balm in a heatproof bowl and pour the warm ice cream base over it.
Cover and refrigerate until completely cool and process in an ice cream maker according to the manufacturer's instructions.