Hey friends, Autumn here! I'm so tickled to have a guest post from Kris at 80twenty here today. 80twenty is all about the balance between good & good for you and Kris shares gorgeous, vibrant recipes there (Roasted Cauliflower with Pomegranate, Lentils, & Salted Yogurt? Yes!). She is such a warm, bright woman and it really shows on her site. I feel lucky to know her and lucky that she's here today! Enjoy! (And OMG Pumpkin Spice! YESSSS!)
I have a confession to make. I get weak in the knees for food with texture. I love a good chew or crunch. The flavour of a food is equally important, of course. But, for me, the most satisfying experience of eating is the texture. That's why I could never give up bready baked carbs, tortilla chips, and crunchy peanut butter. The crisp, flaky crust encapsulating a loaf of bread, soft and studded with air pockets, is a fantastic combination. It's just this kind of juxtaposition that makes for an incredible eating experience.
When it comes to granola, the textural experience is almost entirely why I claim to be addicted to it. That crrruuunch! It's so good. Tell me you haven't tasted a spoonful of slightly sweetened granola clusters in a bath of cold milk and thought, "this is heaven". Have I just revealed too much? Maybe my relationship with food is a little funny, but I know you all have something that you love about the experience of eating. It's a dead giveaway that you're here reading a food blog.
But back to the crunch. I have always made granola that comes more traditionally in small clusters–just delightful, I might add. But this time I aimed to conquer the world of the big cluster. I wanted to create a hold-in-your-hand granola that you could eat like a souped-up, crispy oatmeal cookie. I did a little research and experimented with a few versions of this Big Cluster Pumpkin Spice Granola using honey and egg-whites as my binder. Since I like to keep the sweetness of my granola on the lower end, the egg-white was my favourite option. These clusters rocked my world.
These big clusters will fulfill all of your pumpkin spice fantasies. The clusters are richly pumpkin-flavoured, scented with notes of maple and vanilla, and warmed up with cinnamon, cloves, and allspice. Sliced figs add a welcome chew (and though there are raisins in some of the pictures, I recommend the figs instead. The raisins just don't cook up as well.)
Once the ingredients are mixed together, you just need a little time and patience. So while the scent of pumpkin pie, oatmeal cookies, and cinnamon rolls wafts through your house (it's quite the combination!), cozy up with a blanket and dive into a good book or an episode or two of your favourite TV show. The clusters need time for the flavours to mingle, the moisture to evaporate, and the crunch to form. The wait will be worth it, I assure you, when you can hold these beauties in your hands.
Big thanks and huge love to Autumn for having me over here today. As you already know, Autumn is a gem of a gal, cocktail maker extraordinaire, and one of the coolest women around. I am honoured to be hanging out with her and all of you this week.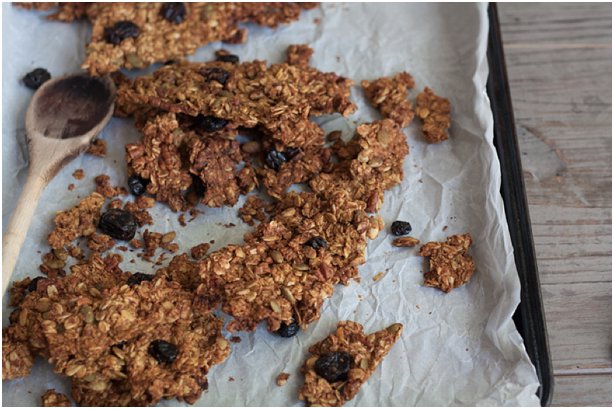 Big Cluster Pumpkin Spice Granola
Author:
Prep time:
Cook time:
Total time:
Big Cluster Pumpkin Spice Granola recipe
Ingredients
1.5 cups gluten-free oats, not quick oats
¼ cup unsweetened, shredded coconut
¼ cup gluten-free oat bran (Bob's Red Mill makes a good one)
¼ cup pumpkin seeds
½ cup chopped pecans
1.5 tsp pumpkin pie spice mix
¼ tsp allspice
¼ tsp cinnamon
½ tsp sea salt
½ cup pumpkin puree (NOT pumpkin pie filling)
¼ cup coconut oil
¼ -½ cup maple syrup, depending on how sweet you like it OR ¼ cup syrup with 5 drops of vanilla stevia
½ tsp vanilla
1 large egg white
6 dried figs, sliced horizontally OR â…" cup of raisins *I prefer figs, the raisins get too dried out for my liking.
Instructions
Preheat oven to 300°F. Line a cookie sheet with parchment paper.
Mix the oats, coconut, oatbran, pumpkin seeds, pecans, pumpkin pie spice, allspice, cinnamon, and salt together in a large bowl.
Meanwhile, warm the pumpkin puree, coconut oil, maple syrup, stevia (if using), and vanilla in a small saucepan over low heat. Whisk until it comes together.
Mix the wet ingredients in with the dry ingredients and stir together until evenly coated. Add in the sliced figs and stir again.
Whisk the egg white in a small bowl until frothy.
Stir into the granola mixture, making sure to evenly distribute it.
Spread the granola out on a single, packed layer on the baking sheet.
Place on the center rack in the oven and bake for approximately 25 minutes. Take the granola out and, using a sturdy spatula, turn over sections of the granola, trying not to break it up too much.
Place the granola back in the oven and rotate the pan. Bake for another 25 minutes, or until it's dried and lightly browned. Rotate the baking sheet again, if necessary, to prevent it browning too much in one area.
Flip and cook again for 10 minutes on both sides, for a total of 20 minutes.
Turn the oven down to 250°F and leave the granola in the oven to dry, approximately 30 more minutes. You want it to be dried out and slightly golden.
Enjoy!