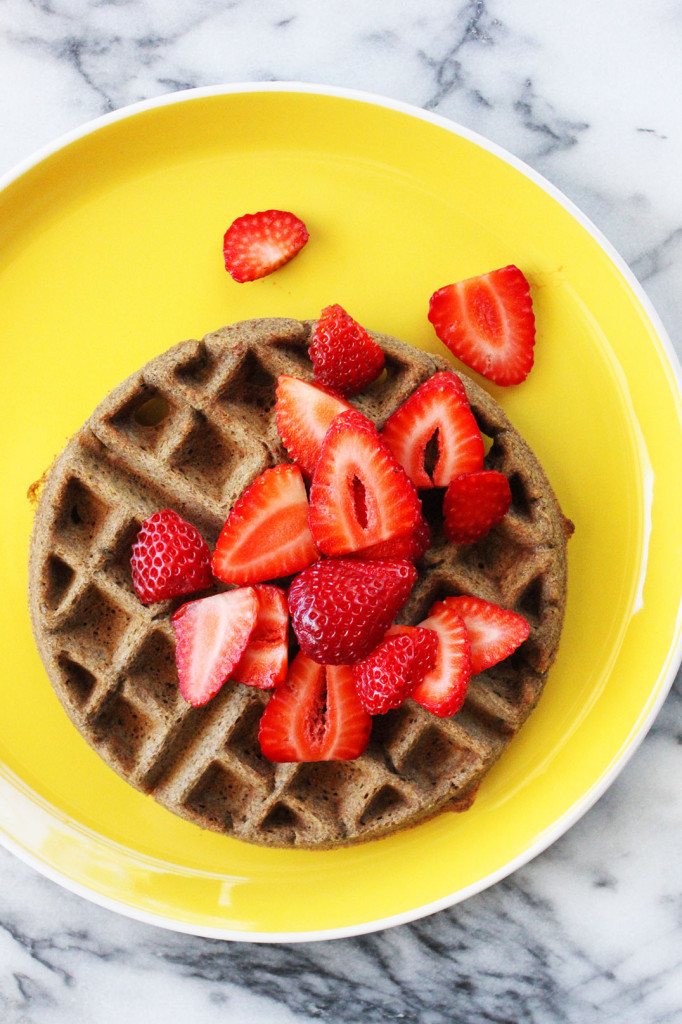 Two summers ago, before we went away to Vermont, I set up a ziploc baggie assembly line and measured out a vacation's worth of dry ingredients for my favorite buckwheat pancake recipe. I needed to be prepared for the maple syrup. Once we were there, I made Paul drive me out to this farm that was waaaaay further away/in the mountains than I initially thought to get what was–thankfully–maybe the best bacon I've had in my life. I cooked the pancakes and bacon in my cast-iron on the grill of our Airbnb and we had some legendary porch breakfasts.
This all happened pre-waffle maker and I can't believe it has taken me this long to adapt my favorite buckwheat pancake recipe for my favorite small kitchen appliance. One of the things I love about buckwheat flour is that, if you play your cards right, you can use it alone in a recipe, without a supporting cast of other flours and starches. If you're a regular gluten-free baker, you understand that this is a special thing and will be happy to learn that's the case here. Only having one flour to measure (#glutenfreeproblems) keeps the recipe simple, so you'll actually want to make these in a partially caffeinated state.
I've heard rumors that something called "fall" may be close to happening for some of you. It is currently 100 degrees as I type this so your PSL tweets mean nothing to me, but these waffles are totally cool morning worthy. They have just enough sugar to keep the outside adequately crispy to stand up to hefty toppings. And thanks to the magic of whipped egg whites, they're light and fluffy on the inside too.
Buckwheat Waffles
Author:
Prep time:
Cook time:
Total time:
A gluten-free, dairy-free buckwheat waffle recipe made with only buckwheat flour.
Ingredients
1 cup of buckwheat flour
1/4 teaspoon baking soda
1 teaspoon baking powder
2 tablespoons cane sugar
Pinch of kosher salt
2 tablespoons maple syrup
1 cup unsweetened almond milk
2 tablespoons canola oil
1 teaspoon vanilla extract
1 egg, separated
Instructions
Combine the buckwheat flour, baking soda, baking powder, cane sugar, and salt in a large bowl. Whisk to combine.
Make a well in the center and add the maple syrup, almond milk, canola oil, vanilla extract, and egg yolk. Whisk together vigorously until no lumps remain. Set aside.
In a medium bowl, use a clean whisk to beat the egg white to soft peaks by hand. Whisking the white by hand provides the perfect built-in timer for how long the batter needs to sit and hydrate. You can take breaks!
Once you have soft peaks, use a spatula to gently fold the egg white into the batter until it is just combined.
Cook in a waffle maker according to the manufacturer's instructions. For my waffle maker, I use about a cup of batter and cook it for about 7 minutes.
Serve immediately or freeze any extras for reheating.
Notes:
Unfortunately, I can't give credit where credit is due here because google is telling me that the blog my coveted pancake recipe came from has been hacked for quite some time 🙁 If that changes, I'll update with a link to the original recipe here.
My tummy is happiest with dairy-free breakfasts, but you can of course experiment with the milk/fat that you prefer.