I am officially declaring this my year of unsung spring vegetables. First, I evangelized about overwintered spinach and now I'm singing the praises of scallions. Scallions are typically overshadowed by ramps, their more of-the-moment allium counterpart. Here in New York, scallions tend to show up in the market before ramps and their mild onion flavor makes them easy to incorporate into just about anything with minimal prep.
I love recipes that put supporting players like onions at center stage. There's a stuffed onion recipe in Plenty that does this and it completely blew my mind the first time I saw it. It's the recipe version of rooting for the underdog. I spied these grilled green onions with walnut romesco from My Name is Yeh that do this too.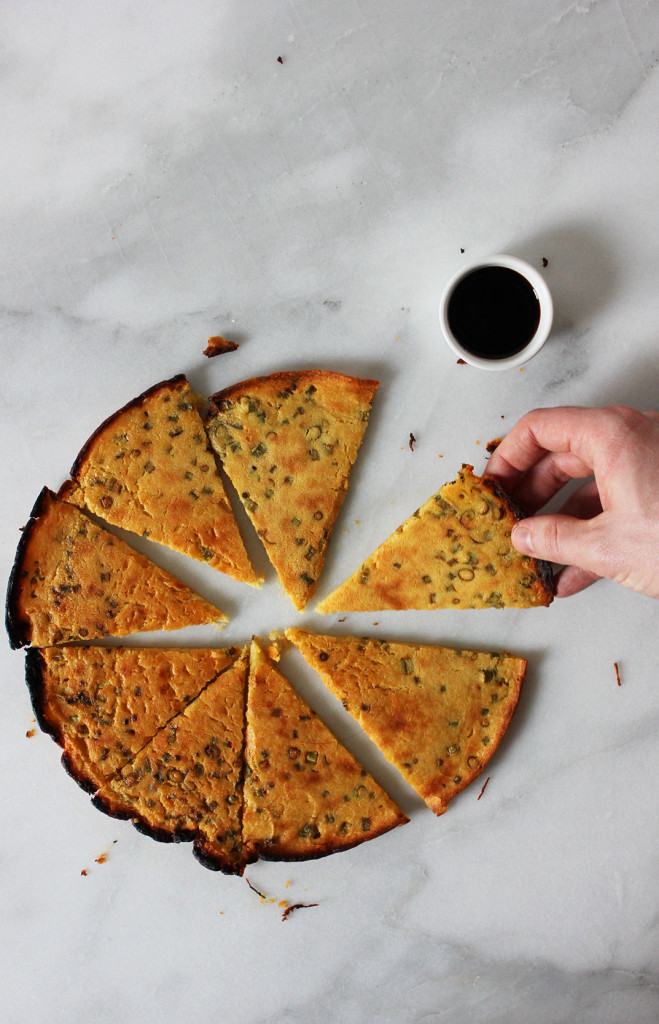 The scallion centric recipe that I had my heart set on was scallion pancakes–that crispy, flaky, doughy masterpiece of American Chinese food restaurants. There are definitely great gluten-free scallion pancake recipes out there, but I found myself missing the simplicity of the original version: flour, water, scallions, and salt.
I maintain that fried dough is one of the great commonalities across world cultures, so I swapped in Socca, a fried dough–well, technically, a batter–from France, to maintain the simplicity of traditional scallion pancakes while making them totally gluten-free. The result is a slightly more virtuous fried carb (it's made with chickpeas!) that hits all the essential scallion pancake notes.
Socca Scallion Pancake
Author:
Prep time:
Cook time:
Total time:
A simple recipe for gluten-free scallion pancakes using socca, a gluten-free chickpea pancake
Ingredients
1 cup chickpea flour
1 teaspoon salt
1 cup water
4 tablespoons olive oil, divided
1/4 cup scallions sliced thinly, green parts only
Tamari for dipping, optional
Instructions
Sift the chickpea flour into a large bowl. Add the salt.
Add the water and whisk vigorously until no lumps remain.
Whisk in 2 tablespoons of olive oil until completely combined and set aside while the oven preheats.
Preheat the oven to 450. Place a well-season 12 inch cast iron skillet in the oven to warm while to oven preheats.
When the oven in ready, carefully remove the hot skillet and add the remaining 2 tablespoons of oil. Swirl it around to evenly cover.
Stir the scallions in the batter. Pour the batter in the skillet and place it back in the oven for 15 minutes, until it is crisp and darkened around the edges.
After 15 minutes, place the socca under the broiler for just a minute or so, until it begins to brown in spots throughout the center. I usually leave the broiler door open and watch it because it browns very quickly.
Remove from the broiler and use a heatproof spatula to remove the socca from the pan.
Cut and serve hot.
Notes:
This recipe is just barely adapted from Mark Bittman in the New York Times.
David Lebovitz has a great Socca recipe and primer on his site.